The Nutshell Pram
Joel White was a naval architect, the son of E.B. White (author of Charlotte's Web) and Katharine White (New Yorker Magazine Editor) and designer of the Nutshell Pram. Mr. White died in 1997. (NYTimes December 1997).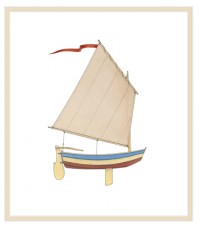 A pram, by definition, is a small dinghy with a flat bow.
According to Artisan Boatworks, at one time the pram was the most popular dinghy for "a pram provides the best carrying capacity for a given length". When space for the dinghy was tight on a boat - a pram was the best answer.
"In creating the Nutshell Pram, designer Joel White was aiming for something almost as easy to build as the typical American pram, but with the good looks of its Norwegian ancestors. The Nutshell became an immediate classic, and is widely thought of as the ultimate evolution of the type."
The Merry Rowe II is a 9'6" Nutshell- the larger of the two sizes of Nutshell available (the other is 7'7") She was built from plans purchased from wooden boat (Nutshell Pram Plans). A father/son project completed in a garage in Kennebunk, Maine in 2013, the MRII has been all over New England. Her travels are described in a blog started in 2016.
The Merry Rowe II on Long Pond, Parsonsfield, Maine